OLIVE GROWERS SINCE THE 19TH CENTURY AND
OIL MASTERS SINCE THE 20TH CENTURY
OLIVE GROWERS SINCE THE 19TH CENTURY
AND OIL MASTERS SINCE THE 20TH CENTURY
APULIA: LAND OF OLIVE TREES AND OIL
We are in Apulia, a land where aromas and flavors blend with the colors of the countryside.
A land, overlooking the Adriatic Sea, sunny, with a mild climate, an ideal place for the cultivation of olives.
Along this strip of land, from centuries-old olive trees, one of the most appreciated excellences in the world is born, the Apulian extra virgin olive oil.
The region, with immense expanses of olive groves, is called "Land of olive trees and oil" for the largest production of extra virgin olive oil in the world.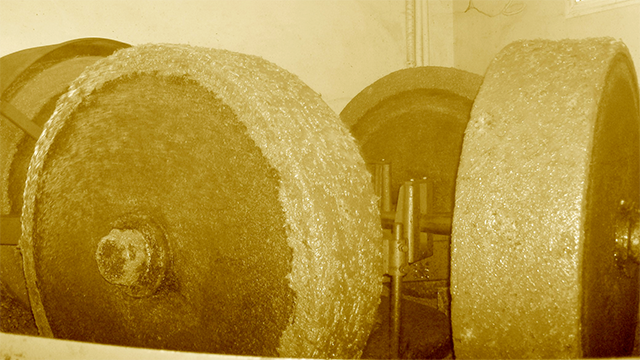 It is here, exactly in Molfetta, a seaside town north of Bari, that the de Ruvo family has for generations been dedicated with love and passion to the cultivation of the land and the production of high quality extra virgin olive oil.

In 1962, the young IGNAZIO de Ruvo, an olive grower for generations, and his family bought a historic building from the early 1900s in Molfetta, where they built a great and impressive oil mill, with millstones and a system of presses. with filtering disks.

After years spent researching new techniques and systems for the production of an high quality oil, in 1999 Giuseppe, ( Ignazio*s eldest son), in collaboration with his father, thanks to his determination, began work on the construction of the new oil mill in Molfetta on the Provincial Road. 112 Molfetta / Terlizzi ( near to the motorway exit).

The new Oil Mill uses two latest generation production systems, the CONTINUOUS MIXED CYCLE, where together with the technology we still find the traditional granite millstones, and the CONTINUOUS CYCLE (without millstones), both with COLD EXTRACTION. Tradition and innovation, thus, the DE RUVO OIL was born, produced only from the De Ruvo Giuseppe's Farm in the De Ruvo Giuseppe's Oil Mill in Molfetta.